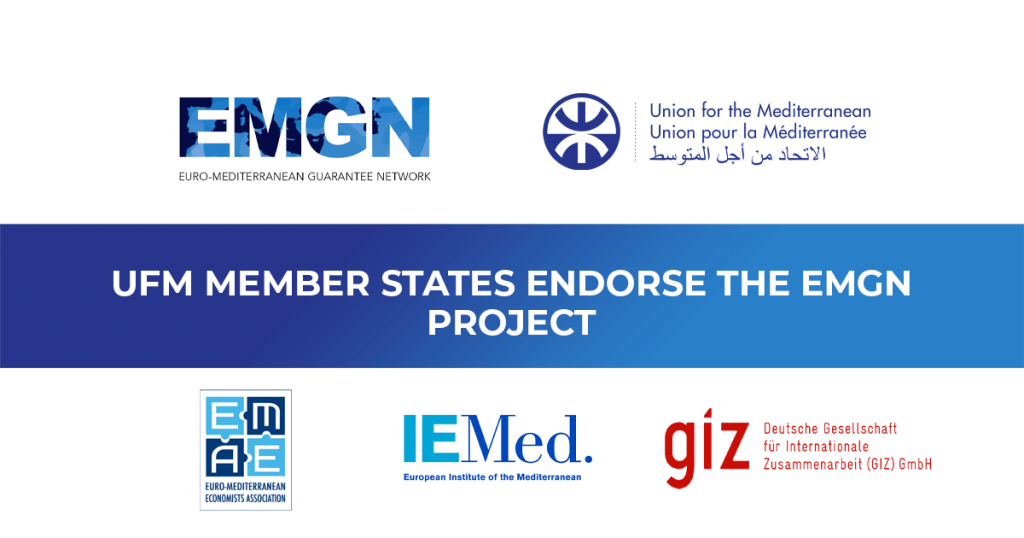 The project Euro-Mediterranean Guarantee Network (EMGN), promoted by the IEMed, the Euro-Mediterranean Economists Association (EMEA) and the German Agency for International Cooperation (GIZ), has been granted the label of the Union for the Mediterranean (UfM).
The decision was taken at the meeting of UfM Member States at the level of Senior Officials that was held on 16 June to discuss the activities and projects of the Union for the Mediterranean for the second semester 2022. During the meeting, they agreed to grant the UfM label to the project EMGN, which aims at facilitating access to finance, in particular for MSMEs, through training, research and development, advocacy and communication, and knowledge sharing.
The UfM label allows project promoters to mobilise governments and stakeholders, raise awareness and visibility and gain access to a strong network of donors and financial institutions. Furthermore, the UfM provides support towards ensuring the implementation of the projects through technical expertise, networking opportunities, and visibility, and takes stock of particularly innovative ideas in view of up-scaling them to a more regional level.
Support to MSMEs is key for the socio-economic development of the Euro-Mediterranean region, since, although they account for 90-95% of all registered companies and employ a great majority of the labour force, they are particularly excluded from financial markets. EMGN is implemented in 9 UfM countries, with the vision of enlarging the network to additional guarantee schemes from other countries of the region and, in addition, aiming at the creation of a regional counter guarantee mechanism.
Link to the EMGN page at the UfM website