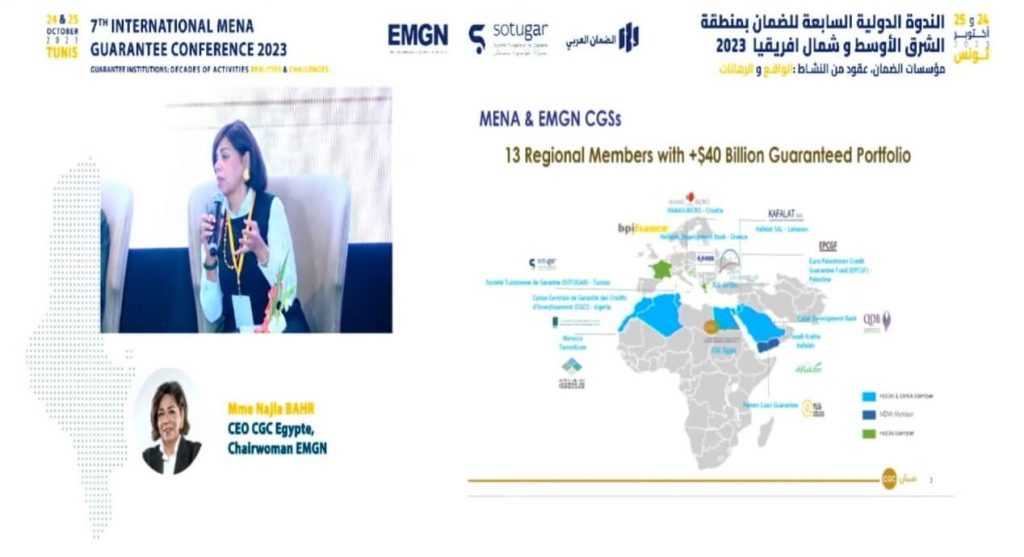 Posted on October 24, 2023
The 7th International MENA Guarantee Conference "Guarantee Institutions: Decades of Activity; Realities and Challenges" was organised by the Tunisian Guarantee Company SOTUGAR in collaboration with the Euro-Mediterranean Guarantee Network (EMGN) and the Arab Guarantee, and took place in Tunis, on 24 – 25 October 2023.
At the conference, Mrs. Nagla Bahr, CEO CGC Egypt and EMGN Chairwoman. spoke at Preliminary Session and 3rd session "Guarantee institutions impact actors". Furthermore, EMEA president Prof. Rym Ayadi participated at the 1st session "Evolution of the institutional Framework".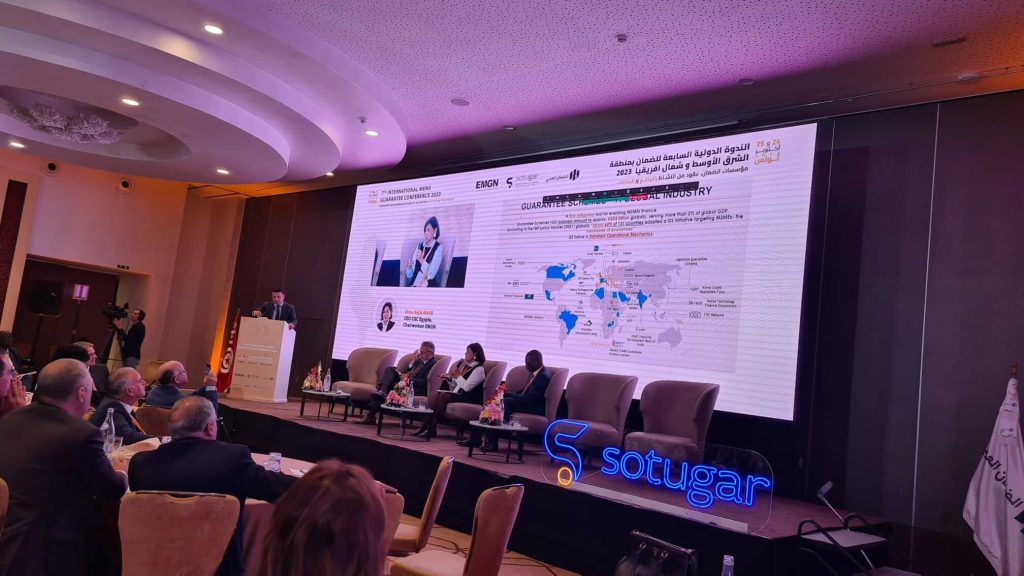 The institutional guarantee of MSME financing has been undergoing a significant development in the MENA Region, following the example of developed and emerging economies in the rest of the world. This development, both quantitative (volume of activity and resources committed, SME beneficiaries, various additionalities) and qualitative (evolution of the economic model, diversification of the guarantee offer, digitalization…), observed at the level of guarantee structures, is due to the important role these institutions play as regards access to financing for SMEs, which is a major determinant of economic growth, employment, and social integration.
At the same time, our societies are also undergoing continuous evolution and transformation. The COVID-19 crisis, that has disrupted our daily lives and activities, has revealed the significant role played by guarantee institutions and programs. Similarly, energy, environmental and food shocks, as well as the increasing scarcity of resources, will pose new challenges in the coming years.
After decades of activity in the field of institutional credit guarantee in the MENA region, the 7th conference examined the road travelled and the achievements that have marked it, as well as the areas for development and the challenges to be met, in order to enable public authorities and donors, to lay the foundations for a sustainable long-term activity.
Link to the Conference website: https://arab-guarantee.com.tn/
The Euro-Mediterranean Guarantee Network – EMGN seeks to alleviate the region's structural constraints for MSMEs to access to finance by gathering guarantee schemes active in the countries of the Euro-Mediterranean. EMGN is promoted by the Euro-Mediterranean Economists Association – EMEA, the European Institute of the Mediterranean (IEMed) and the Deutsche Gesellschaft für Internationale Zusammenarbeit (GIZ) GmbH.