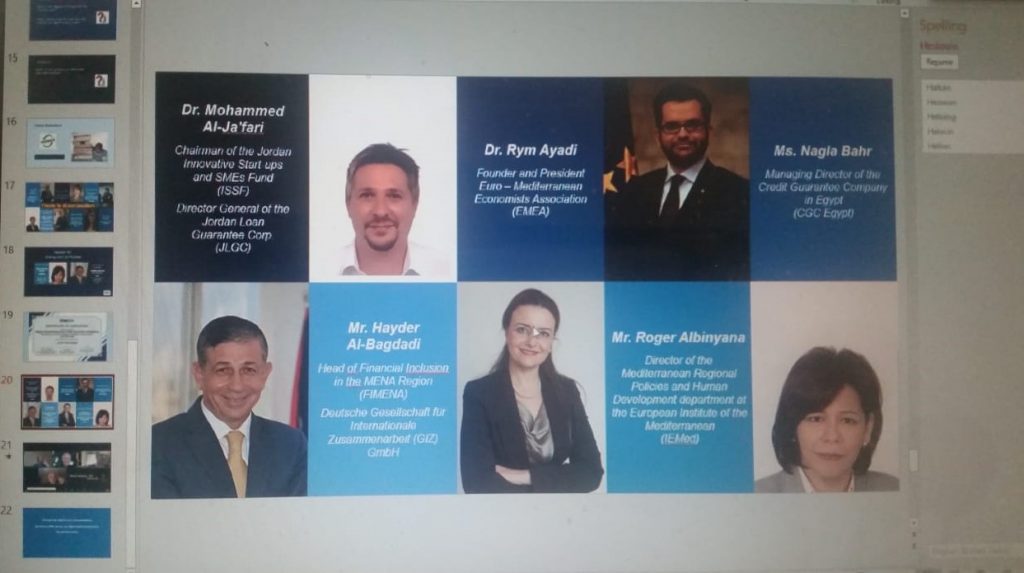 The Summer Academy "Digital Transformation for Credit Guarantee Institutions: Framework, Tools and Strategies of Digital Transformation" was organised by the Euro-Mediterranean Guarantee Network (EMGN) on 20 – 23 July 2020, as part of its activities in the field of peer-to-peer learning and capacity development.
The EMGN Academy is promoted by the Euro-Mediterranean Economists Association (EMEA), the European Institute of the Mediterranean (IEMed) and the Deutsche Gesellschaft für Internationale Zusammenarbeit (GIZ). The Summer Academy, conducted virtually, was co-organised by the Deutsche Gesellschaft für Internationale Zusammenarbeit (GIZ) and hosted by Jordan Loan Guarantee Corporation.
This digital summer academy was designed to support leaders of 9 Credit Guarantee Institutions (CGI) from 7 South and East Mediterranean partner countries to understand the digital transformation and to guide them on their transformation paths. Forty-two (42) participants joined the training workshop.
The Summer Academy addressed the broad topic of digital transformation from three perspectives: a strategic, an organizational and an innovation perspective. Accordingly, the methods consisted of a mixture of inputs from different resource persons, combined with highly interactive methods in adult education and a professional facilitator who guided the group through the whole process.
 Key highlights from the EMGN Summer Academy training workshop:
Digital transformation for credit guarantee institutions will have a significant impact in terms of speed, cost, portfolio quality, profitability, scalability, and customer satisfaction. The importance of digitalization has been highlighted by the current COVID-19 crisis, as credit guarantee institutions are playing a crucial role in supporting an increased number of MSME's during the crisis and speed is of essence.
Successful digital transformation requires clear prioritized business-driven initiatives, end-to-end transformation of journeys rather than optimization of processes, delivery through multi-skilled cross functional teams and here cultural transformation towards agile methods and mindset and shared accountability are also essential.
Stories from the field illustrate how digital transformation can be a long process that starts with a clear strategy or vision, a minimum viable product focusing on specific core transformation of processes, evolving overtime with gradual achievements based on feedback and continuous impact measurements.