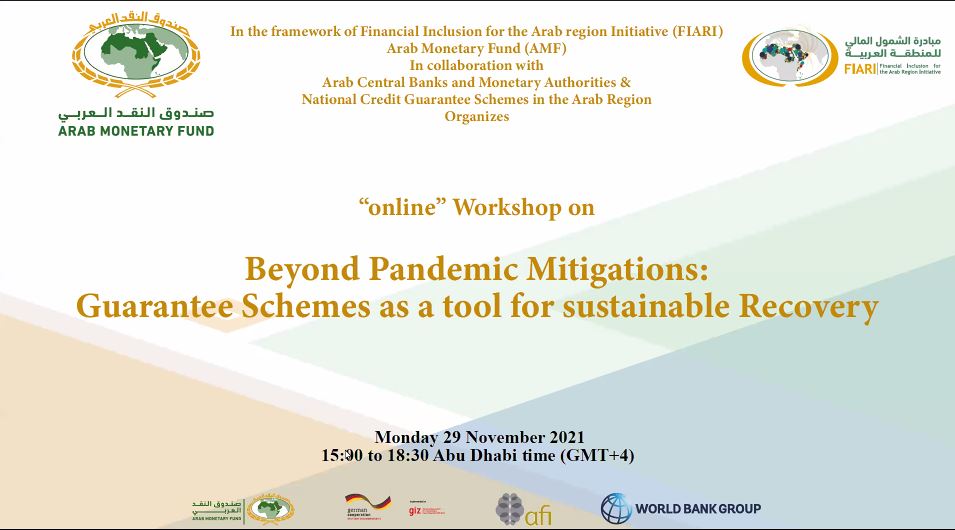 Posted on November 30, 2021
In the framework of Financial Inclusion for the Arab region Initiative (FIARI), the Arab Monetary Fund (AMF) in collaboration with Arab Central Banks and Monetary Authorities & National Credit Guarantee Schemes in the Arab Region organized an online workshop entitled "Beyond Pandemic Mitigations: Guarantee Schemes as a tool for sustainable Recovery" on Monday 29 November 2021.
The Euro-Mediterranean Guarantee Network – EMGN, was by EMGN Chairwoman Ms. Nagla Bahr, CGC Egypt Managing Director, and Dr Mais Sha'ban, EMEA Research Fellow. Ms. Nagla Bahr moderated the Session "Policy Response & Role of Guarantee – During & Post Pandemic Challenges". The Panel included Mr. Gamal Negm – Deputy Governor – Central Bank of Egypt, Mr. Abderrahim Bouazza, General Manager – Bank Al-Maghrib, Mr. Adnan Zaylani- Assistant Governor – Bank Negara Malaysia and Mr. Pietro Calice, Senior Financial Sector Specialist – World Bank.
Topics of the workshop included: policy responses and role of the guarantee schemes during and post the pandemic, the re-make for guarantee schemes business models to secure their operational and financial sustainability, and prospects for enhancing risk-sharing instruments that benefit MSMEs in the Arab region.
Key highlights of the workshop include:
– Regulators need to ensure the application of suitable regulations that supports enhancing the role of Guarantee mechanisms as a significant tool going forward.
– Guarantee Schemes ability to respond quickly to Central Banks initiatives during the pandemic, proves the importance of this tool in facilitating post-pandemic smooth economy return to normal, as well as, promoting new initiatives during recovery, such as the climate change & green transition.
– The unprecedented expansion of the guarantee schemes portfolios, as well as incorporating new segments and new risk characteristics, resulted in a disruption in their business models and requires a re-make for these models to secure the Guarantee Schemes operational and financial sustainability with a special focus on the expected increase in non-performing loans.
– Establishing a regional counter guarantee as a risk sharing mechanism, can unlock growth limitations of national guarantee schemes, enhance risk diversification, limit unexpected losses for the schemes, improve their credibility and regulatory standing, and provide extended support to certain sectors that are in line with policy priorities. However, there are certain challenges that should be taken into account such as pricing and operational considerations. Hence, a feasibility study is needed to assess the benefits and challenges of such mechanism.
The Euro-Mediterranean Guarantee Network – EMGN seeks to alleviate the region's structural constraints for MSMEs to access to finance by gathering guarantee schemes active in the countries of the Euro-Mediterranean. It is promoted by the Euro-Mediterranean Economists Association – EMEA, the European Institute of the Mediterranean – IEMed, and the Deutsche Gesellschaft für Internationale Zusammenarbeit – GIZ.