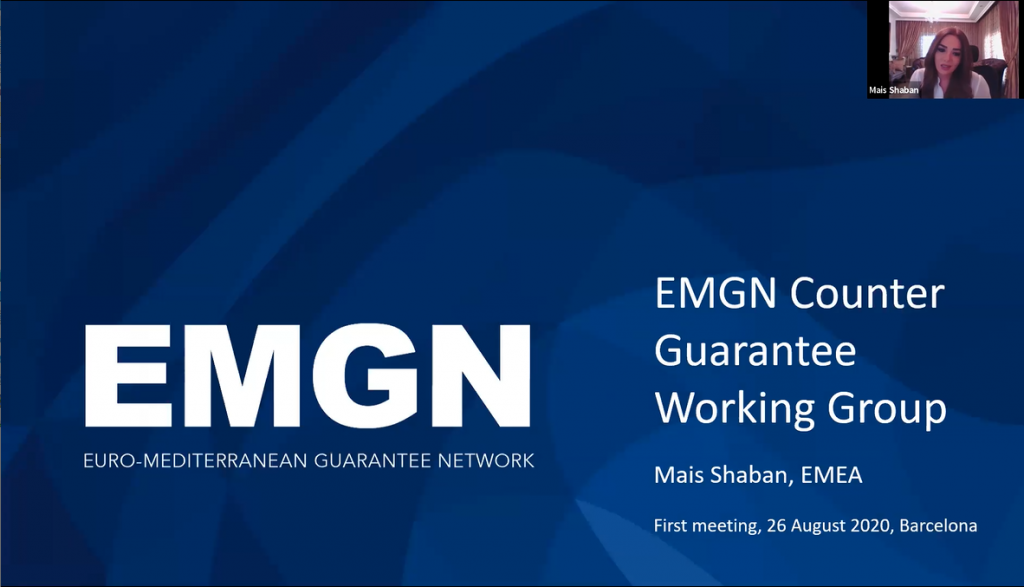 Posted on September 8, 2020
The objective of the working group is to assess the feasibility, the current practices and to develop the framework for setting-up national and regional counter guarantee schemes in the Mediterranean. Counter guarantees as a risk sharing mechanism can enhance MSMEs access to finance and job creation in the Southern Mediterranean region.
The first meeting, which took place on 26 August 2020, focused  on providing an overview of the state of Credit Guarantee Schemes (CGSs) in the region, discussing different risk sharing mechanisms experienced by members, sharing views on the characteristics of the national and regional counter guarantee schemes and obstacles that may face their creation.
The working group members expressed their interest and need for such mechanism at the national and regional levels to enhance their capacity to expand to new business areas, increase risk appetite and demand by banks. Nonetheless, the framework for setting up national counter guarantees should take into account the diversity of the guarantee schemes in the region in terms of ownership (private / public / mixed), pricing (charged fees), and regulatory issues. For the regional counter guarantees, experiences from the European Union are sought in particular the role of the European Investment Fund.
To enhance understanding of the potential offered by counter guarantees and other structural and operational issues, representatives from the schemes in Portugal and Spain and a representative from the European Investment Fund will be invited for the next working group meeting.
The EMGN working group on counter guarantees includes expert members from the GCSs from the Mediterranean and from EMGN coordinating unit. The rapporteur of the working group is Mais Shaban, research fellow at the Euro-Mediterranean Economists Association, founding promoter of EMGN.