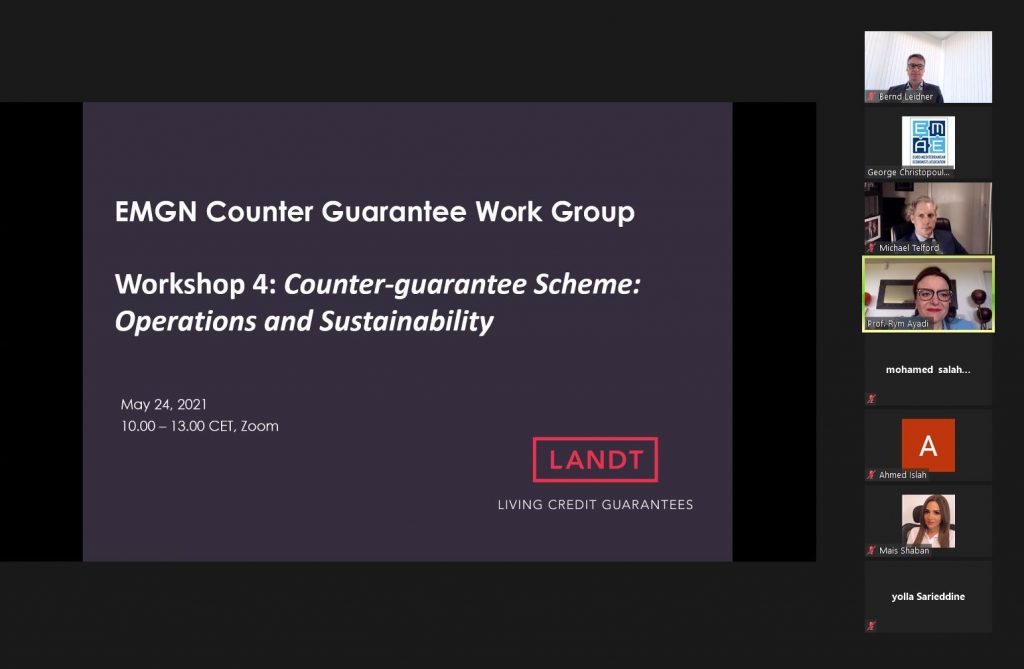 The third workshop of the EMGN counter guarantee work group took place online on 23 March 2021 and it focused on the national and regional counter guarantee scheme ownership and capitalization. The expert led discussion presented legal considerations and different sources of funding including: domestic public sector capitalization, appetite of international development organizations, investment from the domestic private sector, and investment from the international private sector.
The topic of the fourth workshop of the EMGN counter guarantee work group, which took place on 23 May 2021, was "Counter guarantee scheme operations and sustainability". The discussion with the experts covered aspects related to supervision, regulation, and currency considerations, operational requirements and staffing, governance structure, pricing of counter guarantees, in addition to the relevance of COVID legacy.
The Euro-Mediterranean Guarantee Network – EMGN seeks to alleviate the region's structural constraints for MSMEs to access to finance by gathering guarantee schemes active in the countries of the Euro-Mediterranean.
EMGN is promoted by the Euro-Mediterranean Economists Association (EMEA), the European Institute of the Mediterranean (IEMed) and the Deutsche Gesellschaft für Internationale Zusammenarbeit (GIZ)