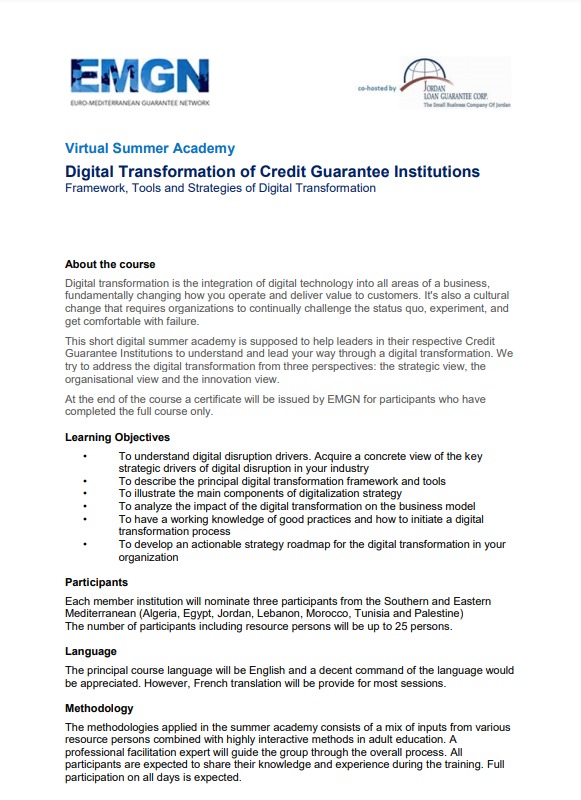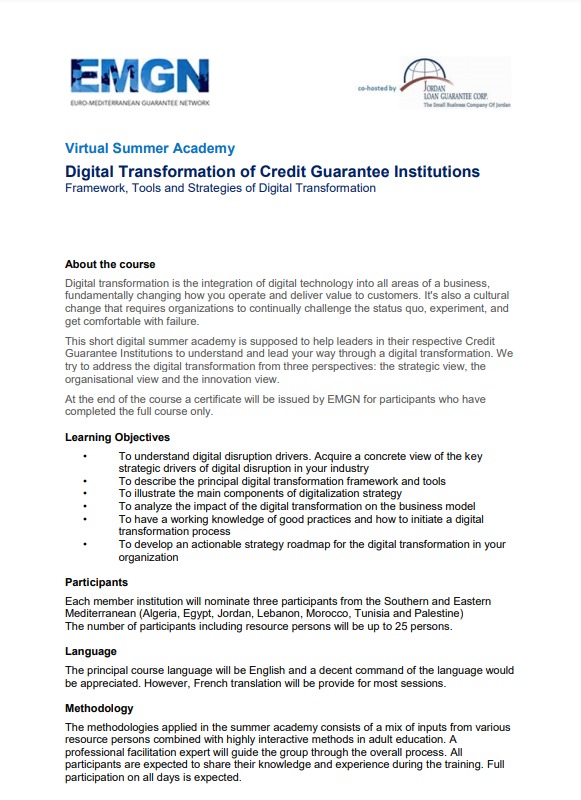 Version
Download

4

File Size

266.03 KB

File Count

1

Create Date

May 4, 2021

Last Updated

May 4, 2021
EMGN Summer Academy Program
About the course 
Digital transformation is the integration of digital technology into all areas of a business,  fundamentally changing how you operate and deliver value to customers. It's also a cultural  change that requires organizations to continually challenge the status quo, experiment, and  get comfortable with failure. 
This short digital summer academy is supposed to help leaders in their respective Credit  Guarantee Institutions to understand and lead your way through a digital transformation. We  try to address the digital transformation from three perspectives: the strategic view, the  organisational view and the innovation view. 
At the end of the course a certificate will be issued by EMGN for participants who have  completed the full course only.  
Learning Objectives 
To understand digital disruption drivers. Acquire a concrete view of the key  strategic drivers of digital disruption in your industry 

To describe the principal digital transformation framework and tools • To illustrate the main components of digitalization strategy 

To analyze the impact of the digital transformation on the business model  • To have a working knowledge of good practices and how to initiate a digital  transformation process 

To develop an actionable strategy roadmap for the digital transformation in your  organization 
Participants 
Each member institution will nominate three participants from the Southern and Eastern  Mediterranean (Algeria, Egypt, Jordan, Lebanon, Morocco, Tunisia and Palestine) The number of participants including resource persons will be up to 25 persons.  
Language  
The principal course language will be English and a decent command of the language would  be appreciated. However, French translation will be provide for most sessions.  
Methodology 
The methodologies applied in the summer academy consists of a mix of inputs from various  resource persons combined with highly interactive methods in adult education. A  professional facilitation expert will guide the group through the overall process. All  participants are expected to share their knowledge and experience during the training. Full  participation on all days is expected. 
Digital Platform and Technical Requirements 
The virtual platform will be Zoom Meeting Software. A secure meeting link will be sent to  registered participants a day prior to the meeting by email. Each participant must log-in with  an individual computer and a proper mic and webcam are required. Logging in via mobile or  via teleconference systems are not permitted.  
About the Summer Academy 
The Summer Academy is organized by EMGN and is part of EMGN's peer-to-peer learning  and capacity development activities. The Euro-Mediterranean Guarantee Network (EMGN)  is promoted by the Euro-Mediterranean Economists Association (EMEA), the European  Institute of the Mediterranean (IEMED) and the Deutsche Gesellschaft für Internationale  Zusammenarbeit (GIZ). The network was launched in 2012 following several meetings  during 2011-2013 at the Secretariat of the Union for the Mediterranean in Barcelona (Spain),  the CGSs representatives from the Southern and Eastern Mediterranean (Algeria, Egypt,  Jordan, Lebanon, Morocco, Tunisia and Palestine), the European Guarantee Association (AECM) and UfM officials. 
Attached Files
File
S1 EMGN_Summer Academy Programme.pdf