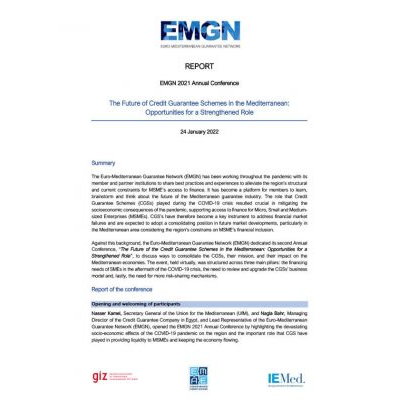 EMGN 2021 Annual Conference report
The Euro-Mediterranean Guarantee Network (EMGN) has been working throughout the pandemic with its member and partner institutions to share best practices and experiences to alleviate the region's structural and current constraints for MSME's access to finance. It has become a platform for members to learn, brainstorm and think about the future of the Mediterranean guarantee industry. The role that Credit Guarantee Schemes (CGSs) played during the COVID-19 crisis resulted crucial in mitigating the socioeconomic consequences of the pandemic, supporting access to finance for Micro, Small and Medium-sized Enterprises (MSMEs). CGS's have therefore become a key instrument to address financial market failures and are expected to adopt a consolidating position in future market developments, particularly in the Mediterranean area considering the region's constrains on MSME's financial inclusion.
Against this background, the Euro-Mediterranean Guarantee Network (EMGN) dedicated its second Annual Conference, "The Future of the Credit Guarantee Schemes in the Mediterranean: Opportunities for a Strengthened Role", to discuss ways to consolidate the CGSs, their mission, and their impact on the Mediterranean economies. The event, held virtually, was structured across three main pillars: the financing needs of SMEs in the aftermath of the COVID-19 crisis, the need to review and upgrade the CGSs' business model and, lastly, the need for more risk-sharing mechanisms.
Attached Files
| File | Action |
| --- | --- |
| EMGN Annual Conference - Report January 2022 | Download |